Back to Events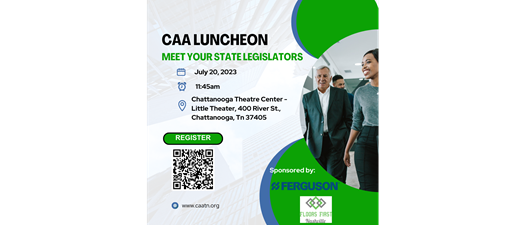 7.20.23 General Membership Luncheon
Thursday, July 20, 2023
Event Details
Topic: Meet your Tennessee State Legislator
Attending State Senators
Sen. Bo Watson
Sen. Paul Bailey
Sen. Todd Gardenhire (tentative)
Sen. Adam Lowe
Attending State Representatives:
Rep. Yusef Hakeem
Rep. Esther Helton-Haynes
Rep. Patsy Hazlewood
Rep. Greg Vital
Also attending our Government Relations Counsels: Catie Lane Bailey, Annie Beckstrom and Nicole Watson
When: Thursday, July 20th at 11:45 am
Where: Chattanooga Theatre Center – Little Theater, 400 River St., Chattanooga, TN 37405
Parking is included – get your parking pass at the door.
$25-member pricing, non-members $35 by invitation.
Thank you to our Spotlight Suppliers: Ferguson Facilities Supply and Floors First Nashville LLC